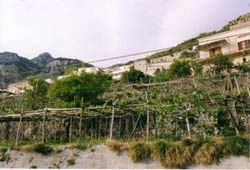 Known in the past like Pelagium (meaning "open sea"), Praiano is distinguished from the other villages of the coast with its vast opening on the sea and by its rock coast going towards Positano.
From Praiano, begins the famous "Path of the Gods", a long panoramic walk.
The center starts to flower around the XIIth century, while being dedicated to agriculture on the heights, and fishing in the part close to the sea. Then, at the XIIIth century, Praiano specializes in the work of the "twisted wire", in flax and coral and then, in the production of brine garlic.
Not to miss in Praiano, the church of San Luca, with the typical cupola, the relic, the bust of the saint and fabrics of famous artists of the XVIth.
Praiano, with the beauty of its sights, its gastronomy, its inns and by much of others is one of the most beautiful places of the amalfitan coast.