One says that
Positano
was founded by inhabitants of Paestum fleeing a raid of Buckwheats (cruel pirates which prevailed in mediteranean at that time). However, there are well known proves about its Roman occupation, although vestiges were found going up to the Paleolithic time, indicating origins older of this country.
Positano is in a valley, its coast is among the most beautiful of the Amalfit Coast. In the center of the village, going down towards the beach always full of tourists, camps the cupola of Santa Maria Assumption, a church of a rare beauty which contains sculptures of the XIII and XVIth centuries.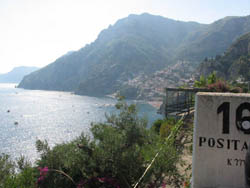 It was a vacation resort during the Roman empire, as the discovery of villas attests it, of which a barrel found lately in 2004. Innumerable "perrons" (staircases) are very typical, on the basis of the top of the country and arriving at the bottom, on the beach.
The main beaches are the Great Beach and Fornillo, accessible by foot. The others are the Door, Arienzo, San Pietro Laurito, mainly accessible by the sea.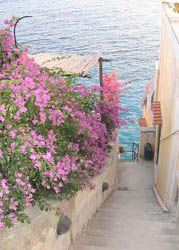 Positano was a prosperous seaport of the Republic of Amalfi in the 16th and 17th centuries. But since half of 19th, the city has lived difficults times. More than half of the population emigrated, the majority to the United States. Positano was a relatively poor village of fishermen during the first part of the 20th. Then, it started to attract a great number of tourists from the Fifties. Today tourism is the main industry of Positano.
The buckwheats towers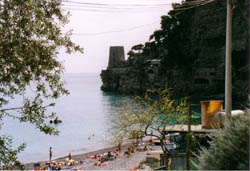 The medieval times saw the construction of many towers to locate Buckwheats, culprits of many incursions which endangered the local population. The first tower is apart from the commune of Positano, on the locality of the Point Small bell, where finishes the Amalfi Coast and starts the Sorrento coast.
When over there Arabic were seen, one launched the first signal, a blow of gun, and then the tom-tom moved to the second, third turn and so on, passing by Positano and all the Amalfi Coast.
In this manner, the inhabitants could take refuge on the heights (thus the castle of Montepertuso and Nocelle were created). Indeed Buckwheats, skilful navigators and combatants, were very bad to penetrate on the heights, and were more easily contestable by the local population.
Legend of the Madonna Assumée and the name of Positano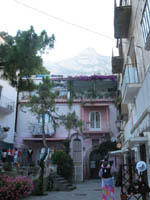 The legend tells that many years ago, about the XIIth century, a boat which transported a framework of the Madonna Assumpted, of Byzantine type, by furrowing Tyrrhenian sea waters, sailed close to the village of Positano. It reigned there flat calm, when the sailors, the Benedictins monks, heard a voice which said "POSE POSA"... (or stop on this place), coming from the framework of the Virgin Mary. Thus they approached the shore. The Positanians draw their name from it, they took the framework of the virgin and they carried it in the Church which today is located on the central place of the village, Piazzetta of the Mills. They left it there, but in the morning, it had miraculously disappeared... and was found close to the sea, on a field of ginestre. It was thought that there had been a miracle, since the table would have moved all alone. Whereas Positanians started here the construction of the new dedicated church, precisely, to Marie, celebrated on August 15 of each year. Today, the church is one of most beautiful of Italy. Among the abbots who were there the abbey of Positano, the cardinal Vincenzo Marie Orsini, who became then the Pope Benoit XIII